The Online Agricultural Exhibition

square bale grab
1000 Series
... Simply drive to a bale, activate the clamp squeeze function, and the computer will take over. After the clamp has loaded the bale on the first table, it will return ...

Specifications - width 1500 mm - two servomotors - all types of fastenings

Is designed for loading of straw- and foliage round bales without damages. Standard equipment: • Very short distanz between loader and bale - designed for loader with less lifting capacity • With 2 ...
See the other products
Bressel und Lade Maschinenbau GmbH

... hydraulic bale claw. The claw is ideal for gentle handling of bales and are out-shaped so that the bale retains its shape and is then easier to stack height. The claw is low profile, ...

round bale grab
310 series


One servo-motor Spread 750-1800mm CE Certificate of Approval Safety Mark B Powder painted
See the other products
P.P.H.U. VOLANT SC

See the other products
Jaylor Fabricating Inc.

• Wrapped round bales ø 1m00 to 1m80 (1200 kg) Synchronisation spring for both arms to facilitate selft-centering. 3 rd function required. • Option : pressure limiteur for BRE 4.
See the other products
Manip' Sas


opening range 800-1600mm load capacity max. 1400kg 1 hydraulic cylinder weight ca. 210kg
See the other products
Hesse Metalltechnik GmbH

See the other products
ROBERT

round bale grab
CB-series
We offer 2 types of bale grabs: 1.CB-120 Bale grab – designed for loading of silage bales with a diameter up to 120cm; - weight - 88 kg; -equipped ...
See the other products
HYDROMETAL

round bale grab
DODO 1500-SOLO
... 1500 Solo, Duo or Trio, is the ideal, universal bale grab for transporting, loading, stacking and transferring film-wrapped round bales, rectangular packages and/or straw packages. All ...

Specification: - Clamp completly galvanized - Suitable for bales from 70 till 245 cm - Linkage of choice, mounted with bolts - 2 Cylinders - No sharp edges Basic Equipment: - Without linkage - ...

Standard equipment: • EURO mount • 2 cylinders • 2 moveable arms • max. load up to 1000kg Optional equipment: • other type of mounts –if required
See the other products
ZAGRODA Sp. z o.o. Sp. k.

round bale grab
M10G TURN
See the other products
ALTEC SAS

round bale handler
System 10
Hustler's four-in-one System 10 is the ultimate multipurpose farm tool for the smaller operator who needs to handle and feed out bales and move pallets. The heart of System 10TM is a hydraulically-controlled mounting ...
See the other products
Hustler Equipment

... short distances cylindrical-shaped bales. The bale grapple can be aggregated on a front loader with quick- concoction Euro-type or LC-1650 or Euro-SMS. Round Bale grapple consists of ...

round bale grab
SERBAL 145
See the other products
BUGNOT S.A.S.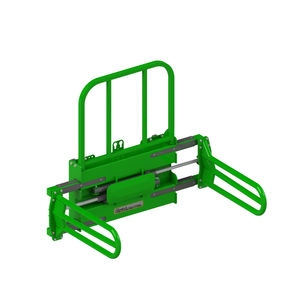 ... Hydraulic Bale Clamp has been developed mainly for handling wrapped rectangular and round bales of silage. With a clamping range from 750mm to 2050mm, the Bale Clamp ...
See the other products
Cashels Engineering Ltd.

Available for both wrapped or non-wrapped bales, maximum opening capacity of 1500 mm.
See the other products
Cast Group SRL

rectangular bale grab
1416, 1417
A complete range of bale grabs for all pack sizes, using forged steel tines which are tapered for ease of bale penetration and to prevention of damage to bale. Main ...
See the other products
David Ritchie Implements Ltd.

round bale gripper
SBZ-915
The design of the SBZ-915 enables optimal handling of silage bales. The shut-off valve is standard equipment and guarantees perfect holding of the silage bales. Optionally also coupling plates for wheel ...
See the other products
Franz HAUER

See the other products
PPHU "HYDRAMET" Sp. z o.o.