The Online Agricultural Exhibition

Ideal for long length runs, belt conveyors are an extremely efficient and gentle way to move grain, requiring less maintenance than other conveyor types giving you ease and efficiency ...
See the other products
GSI Group


... PTM Technology offers the following products for both commercial and on-farm applications: Chain Conveyors Bucket Elevators Belt Conveyors Spouts & Connections ...

grain conveyor
2400 series
... Hydraulic Scissor Lift Conveyors are ideal for filling bins, piling and temporary storage with 60 cm (23.5") belt and capacity rated up to 380 mtph (14,000 bph). Features - 35.5 cm (14") tube - ...
See the other products
AGI - Ag Growth International

container conveyor
FL'EX Covering unit
Flier Systems has various scattering solutions for the stimulation of germination. Whether you use sand, soil, vermiculite or perlite; a correct and uniform layer thickness is very important. Our FL'EX Covering Unit is unique thanks ...
See the other products
Flier Systems

... easier and more cost-effective to handle grain. Sukup Drag Conveyors are made of heavy-gauge, galvanized steel to ensure that your investment will last for years to come. Sukup Drag Conveyors are also ...
See the other products
Sukup Mfg Co

potatoes conveyor
TC 80 series
... transfer into storage. The combination of two 80 cm wide conveyors with 13.5 m or 16.5 m range convinces with its unique belt raising mechanism (airbag). This ensures a gentle crop transfer from belt ...
See the other products
Grimme Landmaschinenfabrik GmbH & Co. KG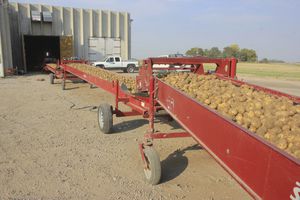 ... . The model 1200 Conveyor has a hopper on the in-feed end to facilitate the smooth transition of product when dumped in from another conveyor. The conveyor has jacks on all four wheels ...
See the other products
Spudnik Equipment Company LLC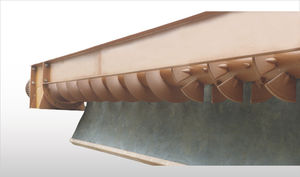 CMC Screw Conveyors are used in the precast concrete industry to convey fresh concrete from the compulsory mixer to the moulds, as an alternative to belt conveyors which, unlike screw ...
See the other products
Wam Group

potatoes conveyor
PomOver
Hydraulically folding overhead transfer unit »POM-Over« e.g. for potatoes, carrots etc.

Belt Conveyors Our belt conveyors stand out for the best relation between tn/h of transporting and power. They are also as well ideal for the handling and conveying ...
See the other products
SILOS CORDOBA S.L.

belt conveyor
1200 Series
... series of tube conveyors is designed with a standard or collapsible hopper and comes in a variety of lengths to fill trailers or bins. These conveyors are equipped with a 10" tube and a 12" belt, ...
See the other products
Convey-All Industries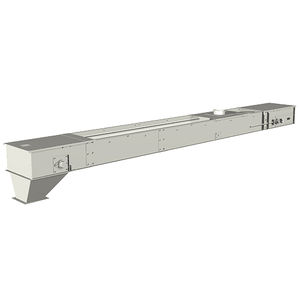 PETKUS Trough Belt Conveyors can be used in silos, grain storage and malting plants whenever product purity and gentle horizontal conveying are required. Trough belt conveyors ...
See the other products
PETKUS Technologie GmbH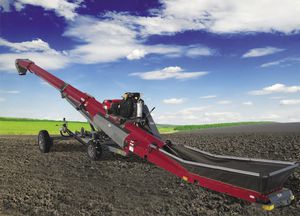 ... integrity of your crop with Meridian's NEW High Capacity Belt Conveyor. Well designed, reliable and long-lasting. Move grain and seed like never before with our NEW High Capacity Belt ...
See the other products
Meridian Mfg.

container conveyor
SmartFlo
SmartFlo conveyor belts, market-oriented production with greater efficiency You are looking for market-oriented production and wish to respond quickly to your customers' needs. But is your business ready ...

YardJack Dual Belt 36 stockpiling elevator with Woodchuck de-sticker is the fastest to unload, to move and to de-stick. Rabbit speed and Woodchuck clean.

... be locked during feeding and can be used for veterinary examination, such as vaccination and physical animal control. The Band saves the construction cost because it uses a narrower feed way. Feeds that are not eaten ...
See the other products
SEZER TARIM ve Sagim Teknolojileri San. ve Tic. Ltd. Sirketi

See the other products
Bijlsma Hercules B.V.

See the other products
univerco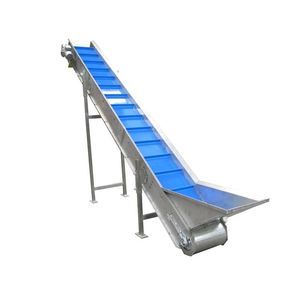 Key Features Galvanised mild steel box construction for durability Two pneumatic tyred wheels with radial slewing facility as standard Twin telescopic struts with pins provide variable discharge height. Hydraulic ram with hand pump ...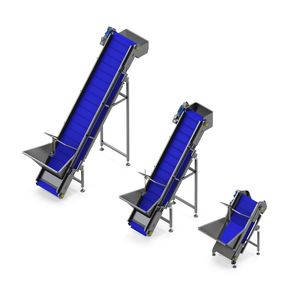 Sweere offers a belt to evenly feed the product onto your processing line. Using a machine like this causes the entire line to function more effectively than when you feed all product in one go. This machine can be custom ...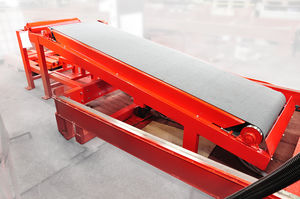 Cutted boards are removed from bandsaw with mechanical or automatical conveyor. Boards can be cleaned with brushes.

Belt conveyors handle bulk materials across medium and long distances: the material flowing on the belt may be weighed as in transit to other machines (e.g. grinders). Our belt ...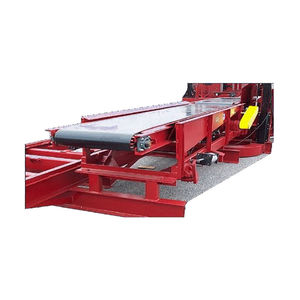 Meadows Drop Belts provide easy sorting of waste materials from the head saw. Cants and boards can be moved to your edger while strips and slabs can be dropped into a waste conveyor.

... , wood shavings and chips, etc.); necessary to discuss with the supplier. The conveyed material gets on the belt from the other conveyor and is transported fruther to the throw-off carriage, which ...