The Online Agricultural Exhibition

Payload: 8 t
LOADING LENGTH 3.700/4.300 mm WEIGHT 1355 kg Central Beams2/180x100x6 mm Loading Length3.700/4.300 mm Total Length/Width5.980/2.215 mm
See the other products
PISEK VITLI KRPAN d.o.o.

This trailer was made for the ease of placing your extenday material in the orchard. The hydraulic motor spool valve with speed control, simplifies the unrolling process for the extenday material. The trailer ...
See the other products
AutomatedAg

chaser bin
X-Flow 15 and 19
The X-Flow 15 and 19 models are designed to accept the total capacity of the hopper on the largest combine harvesters that can then be immediately transferred. They are easy to use, have limited weight and are cheap to operate, which ...
See the other products
Pérard

single-axle trailer
CC350,CC525
... your product in bulk, the most efficient way to collect it is into one of OMC's Aftershock carts. The CC-350 is a conveyor cart featuring 350 cubic feet of capacity, a dual chain delivery system with 42 inch conveyor ...

Payload: 1.5 t - 12 t
A complete line of robust, heavy duty dump trailers for off or on road use. Reliable and built to last, many models tilt on any of three sides by simply changing corner pivots. These trailers are precisely ...
See the other products
Pronovost

Payload: 1,500 kg - 6,000 kg
DOTAZIONI DI SERIE Frame profiles UPN on rigid axle Floor with smooth finish tilting hydraulic hose with quick coupling and limit valve Slave-foot mechanical upside tailgate opening front winches Light and documents system for registration ...
See the other products
FE.BA. Snc di Feliziani Serafino & C.

The overloading wagon for optimized field logistics Strong, wellbuilt overloading wagon fol all crops and moisture levels with numerous applications. Serves 1-2 mid-size combiners. For tractors from ...
See the other products
Euro Bagging

Payload: 5,900, 8,400, 11,500 kg
Because it is designed and manufactured in Ireland, the Grass Tech Grazer is designed specifically to cope with the high fresh weight of grass typically found in the UK and Ireland. Our relationship with our customers is two-way. By working ...

Payload: 23, 30, 33, 13 t
... ground pressure conditions - Overload height up to 4.70 m Efficient logistics for agriculture Güstrower Transport and Loading Wagons deliver cost savings of more than 200 ha in project services per year. However, best ...

... enclosures and a fixed or automatic roof top opening. The Versa Box is available from 16 feet to 40 feet long in truck and trailer mount styles.

dump trailer
BB,BBE series
See the other products
Chalvignac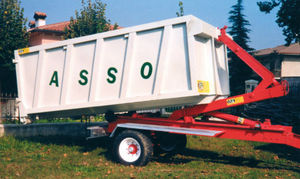 hook lift trailer
RCA Series
See the other products
MP International Srl

Payload: 20,100, 19,300, 13,500 kg
See the other products
Jaylor Fabricating Inc.

See the other products
Sayginlar Agriculture Machinery Ltd.

The BALDAN CABC Agricultural Dump Wagon for Coffee is often used in collecting coffee grains in the field. The truck has a tilting system triggered by hydraulic cylinder.

Sizes 20 to 40 ft. box Capacity: 35 to 75 cu. Yd. Material: 1/4" floors & 3/16" sides Dual apron drive Hydraulic tailgate Steering & brakes

See the other products
Penta TMR, Incorporated

JBS Forage Trailers are built to withstand the test of time and are customizable for your needs. They are available in a variety of lengths. The trailers unload quickly and come standard with a manual ...
See the other products
J. Bond & Sons Ltd

HMI bottle trailers feature stainless steel pans and racks, heavy duty marine grade axles and a powder coated chassis. We can meet the needs of any size operation with sizes ranging from 48 to 1008 bottles for 2-3 quart ...
See the other products
Hatfield Manufacturing, Inc.

Payload: 10,000 kg
... special purpose trailers as follows: -General purpose trailers -Corn and Grass silage trailers -Manure trailers According to board construction system trailers ...
See the other products
ATESPAR MOTORLU ARACLAR SAN.VE.DIS.TIC.LTD.STI

Trailer for transport of grapes, stainless steel tank 2.70x1.55x0.8 m, mechanical brakes, rear hydraulic tipping, loading height from the ground 1.35 m, tyres 10.0/75-15.3
See the other products
VENDRAME Srl

... inexpensive, modern and high- powered trailer -Hardox half round-trough -High performance axles ea.14 t at 105kmh, extra sealed break shafts, hugh bearing combination -heavy load multi-axle for truck-trailer, ...
See the other products
Hilken Fahrzeugbau GmbH


flatbed trailer
SP - V2x4
Payload: 8 t
Harvesting of stalk crops by pressing them into giant trusses is characterized by a broad range of well-known advantages. However, the effectiveness of this method is conditioned by the operator's capability of truss handling, especially ...
See the other products
SMS CZ s.r.o.

This trailer with a capacity of 255 liters is a robust and flexible all-purpose implement for the ambitious private user as well as for semi-professional use.
See the other products
Matev