The Online Agricultural Exhibition
mounted sprayer
TELENO,ANETO
Capacity: 1,000, 1,200, 1,500, 2,000 l
Working width: 2.5 m
New sprayer manufactured by GIL. TELENO called model is a compact equipment and with deposit 1,000 to 2,000 liters, made of high density polyethylene; on a robust chassis made of high strength steel, shot peening and ...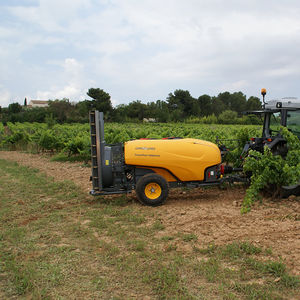 mounted sprayer
POWERFLOW VTD
Capacity: 400, 600, 1,000, 1,500, 2,000 l
Working width: 2 m - 3.2 m
POWERFLOW sprayers comprise a lightweight tubular chassis which is both simple and robust. The axles, which are positioned centrally and can be adjusted to the tractor's track width, offer excellent load distribution. ...
See the other products
Gregoire SAS
Capacity: 2,000 l
Working width: 1.3 m - 3.6 m
On narrow or wide vines, spray 3 to 6 rows at the same time. Carry out spraying with the help of pneumatic and air jet sprayers and take advantage of the Eole 2's automated systems. Cost-effective 3 turbines: economic ...
Capacity: 1,500 l - 2,200 l
Working width: 20 m - 28 m
Welcome the new HARDI MEGA. The biggest lift mounted sprayer on the market. The new functional design and even better overall performance set new standards for lift mounted sprayers. ...
See the other products
HARDI
Capacity: 400, 1,000 l
... Hooded sprayer's can be equipped with full spraying systems, with a tank up to 400ltr, or with front mounted tanks if higher capacities are required. Band sprayer nozzles can also be ...
mounted sprayer
SIDEQUEST
Capacity: 1,200 gal
Working width: 60'00", 80'00", 90'00"
... your farming operation. SideQuest is the product to consider when applying fertilizer when planting. Add a Demco 3 point mounted boom for efficient, cost effective spraying. Demco SideQuest is a high quality, unique ...
See the other products
Demco Manufacturing Co.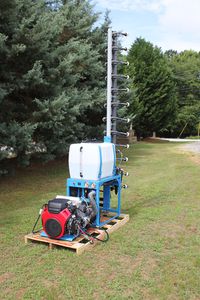 Capacity: 30 gal
... electrostatic nozzles - 22 inches (55 cm) wide - Mounting options: Greenhouse cart, utility vehicle, small trailer - Ultra low volume sprayer - Supercharger - Flow rate of .44-.95 gal/min (1.68-3.6 L/min)
See the other products
Electrostatic Spraying Systems
With the TUNNEL spraying technology, you can reduce drifting by up to 99%. Using the recycling technology, material that it not taken up flows back into the tank. The valuable spraying agents are filtered carefully, pumped back into the ...
Capacity: 800, 300, 400, 600 l
Working width: 4 m - 15 m
... PREMIS offers accessible and linked manual valves located on the same side of the machine. Pump and filtration All TECNOMA sprayers are fitted with a piston-diaphragm pump to ensure a stable flow at a wide volume ...
See the other products
TECNOMA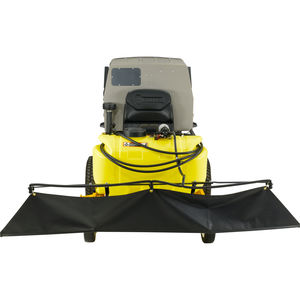 Capacity: 95 l
A helpful attachment for mowing companies, the Boom Sprayer easily mounts to all 42", 48", 52", 56", and 62" Walker decks and offers a 96" spray pattern, allowing operators to apply fertilizer or weed control in an efficient ...
Capacity: 250, 300 gal
Working width: 7.62, 9.14, 12.19 m
Hauling the Fast pasture sprayer down any road will not be a problem. Fast designed their pasture sprayer with a 8' transport width. When you make an investment in equipment, you want it to last, which ...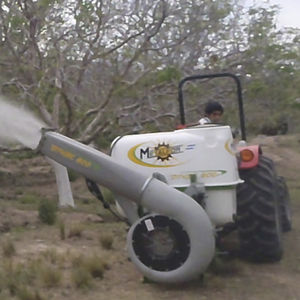 See the other products
METALFOR SA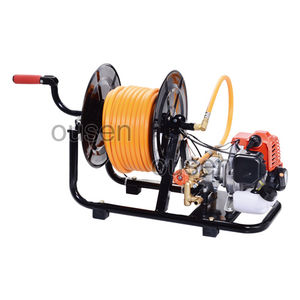 See the other products
Zhejiang Ousen Machinery Co., Ltd.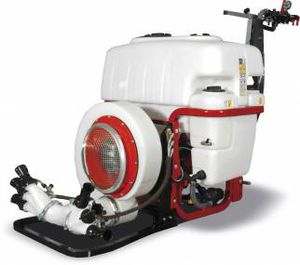 mounted agricultural atomizer
POLI PNEUS
POLYETHYLENE MAIN TANK WITH "NO RESIDUE" FEATURE ● POLYETHYLENE HAND-WASHING TANK ● POLYETHYLENE CIRCUIT-WASHING TANK ● EXTERNAL LEVEL INDICATOR ● PAINTED STEEL FRAME ● HYDRAULIC AGITATOR ● SELF-FILLING INTAKE FILTER ● TWO SPEED OVERDRIVE ...
See the other products
oma
The device for under-film treatment makes it possible to intervene quickly on covered crops, avoiding any operations of removal and reinstallation of the plastic film. This device stands out from existing material in its design, with ...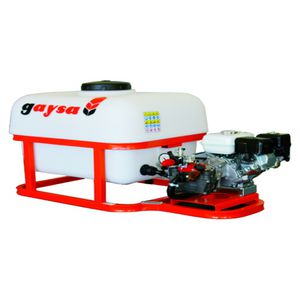 Capacity: 200 l - 1,000 l
See the other products
gaysanet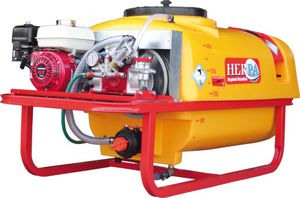 Capacity: 400, 600, 800, 1,000 l
See the other products
mfherpa
This set, consisting of a spray boom and a hose reel, can be mounted on a MPT pipe-rail trolley. A small adjustment needs to be made to the MPT before you can use this set. When you need the MPT trolley for maintenance ...
Capacity: 325 l
Working width: 15, 18, 20, 22 in
See the other products
msgregson
Capacity: 1,300, 1,900, 1,600 l
Working width: 21, 24 m
Carried by the tractor and may be with hydraulic folding boom. 1.along the tractor such as EAK 2. behind the tractor such as HD or HDV or folding by hand, such as the standard Z and standard types M
See the other products
Delvano
Capacity: 2,000 l - 4,000 l
Working width: 21 m - 30 m
The TIGER with 4000l tank is the extension sprayer for various chassis such as the JCB Fastrac, MB Unimog, and MB-Trac. It is a suitable machine for service companies that need to move quickly from one customer to another ...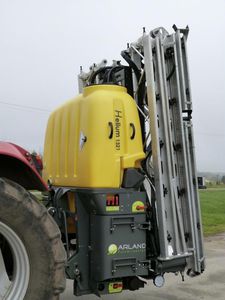 Capacity: 800, 1,100, 1,300 l
Working width: 15, 18, 21, 24 m
See the other products
Arland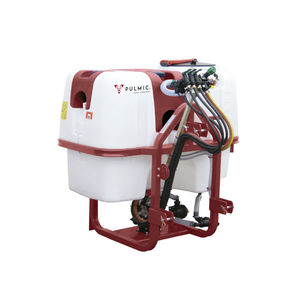 mounted sprayer
PULMIC RAPTOR S
Capacity: 200, 300, 400, 600, 800 l
-Integrated self-cleaning circuit -Basin deposit of water for domestic use -Pressure control with regulation valve -High density polyethylene tank -Capacities of 200/300/400/600/800 -Charge and aspiration filter -Pump Comet Mod. APS-31/ ...
See the other products
Pulmic & Kamikaze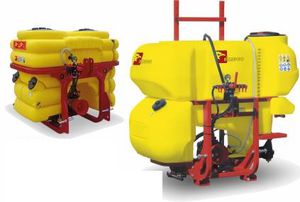 mounted sprayer
MERLO series
Capacity: 100 l - 1,600 l
Working width: 6 m - 18 m
CURRENT TECHNICAL FEATURES: PAINTED STEEL FRAME ● POLYETHYLENE MAIN TANK ● SYSTEM WASHING KIT AND HANDWASHING KIT POLYETHYLENE TANKS (200/1600) ● CLOTHES HOLDER (900/1600) ● LOW PRESSURE PUMP ● "ECM"MANUAL 4 WAY CONTROL UNIT ● SUCTION ...
See the other products
Rimeco