The Online Agricultural Exhibition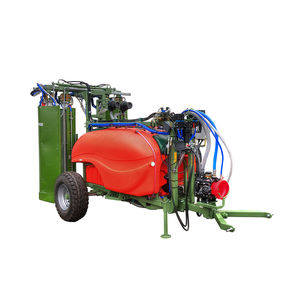 Working width: 2,300, 2,500 mm
The GSG over-row fan sprayers are a new range in the field of plant protection. They are fitted with hydraulically driven cross-current fans. With the 2, 3 and 4-row machines, a new configuration of the fans and a recycling ...
See the other products
Clemens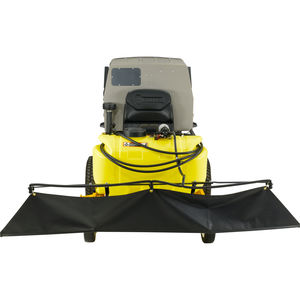 Capacity: 95 l
A helpful attachment for mowing companies, the Boom Sprayer easily mounts to all 42", 48", 52", 56", and 62" Walker decks and offers a 96" spray pattern, allowing operators to apply fertilizer or weed control in an efficient ...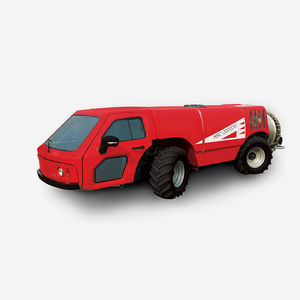 self-propelled sprayer
HSC-2000DW
Capacity: 2,000 l
See the other products
hanseo
Capacity: 1,800, 2,400 gal
Working width: 18.29 m - 30.48 m
... tracking in the field. We know that killing weeds is a top priority, so we incorporate a center-pivot boom into all of our sprayers. Because the boom is de-coupled from the trailer, it stays level with the ground, ...
See the other products
Fast Manufacturing

self-propelled sprayer
MÚLTIPLE 7040
Capacity: 3,500, 3,750 l
Working width: 32 m
Every METALFOR machine provides security, comfort and versatility for overall efficiency. This machine is equipped with modern elements and advanced technology, allowing you to perform all the functions it has been designed for, quickly ...
See the other products
METALFOR SA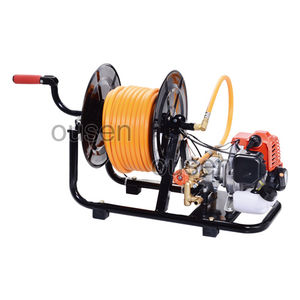 See the other products
Zhejiang Ousen Machinery Co., Ltd.
self-propelled sprayer
Vodoley 2 sprayer-spreader
Capacity: 1,500, 1,000 l
Working width: 18 m - 24 m
... allows the sprayer to pass through a heavily soaked soil. When other types of sprayers and tractors are simply bogged down in sodden chernozem, «Vodoley 2» will perform all the work in the required volume. Ultra-low ...
See the other products
Energomehkomplekt, LLC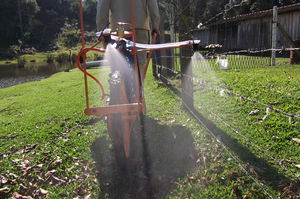 SPRAY-GUIDED JET DEVICE OPTIONAL ACCESSORY HAND-PULLED SPRAYER Main Features: Position adjustment Height adjustment Two spray nozzles Low-cost extra optional equipment Highlights: It sprays inter-row of plantings, ...
See the other products
plantknapik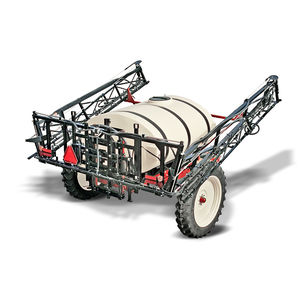 Capacity: 1,000 gal
Working width: 60'00"
BOOM HEIGHT ADJUSTMENTS ARE EASILY MADE USING THE SINGLE HYDRAULIC CYLINDER AND VERTICAL MAST. The 1000 Utility sprayer is constructed with only the best materials and is designed for many years of trouble-free service.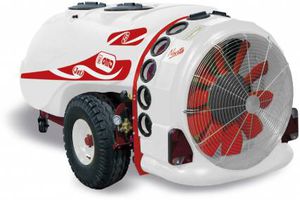 trailed agricultural atomizer
JET CONTROL
POLYETHYLENE TANK WITH TOTAL EMPTYING ● TANK FOR CIRCUIT-CLEANING ● TANK FOR CLEANING HANDS ● EXTERNAL LEVEL GAUGE ● PAINTED STEEL FRAME ● ADJUSTABLE PARKING JACK FOR 660 AND 1100 ● WHEELED JACK FOR 1650, 2200 AND 3300 ● DOUBLE BRASS ...
See the other products
oma
The device for under-film treatment makes it possible to intervene quickly on covered crops, avoiding any operations of removal and reinstallation of the plastic film. This device stands out from existing material in its design, with ...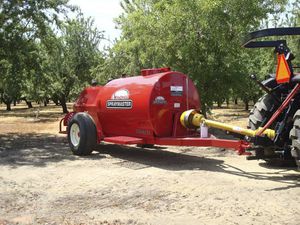 trailed sprayer
Windmill 775
Capacity: 400 gal
... . This is so effective that chemical drip and drift are nearly eliminated, making the Windmill Spraymaster electrostatic sprayers preferred with farmers and enviromentalists alike.
See the other products
brushhound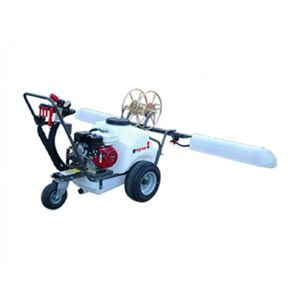 See the other products
gaysanet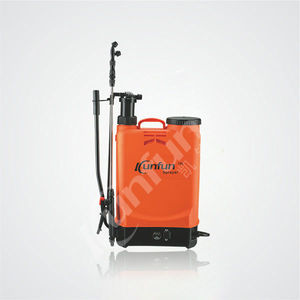 orchard sprayer
KF-16C-21
Capacity: 16 l
1) Saving time and labor. and it can come with single nozzle, twins nozzle, 4-hole nozzle, fan nozzle, etc. 2) Big battery, working long. One time, keeping working for 12 hours. 3) Low cost, high effect. 4) small size, light ...
See the other products
kunfunsprayer
See the other products
mfherpa
This set, consisting of a spray boom and a hose reel, can be mounted on a MPT pipe-rail trolley. A small adjustment needs to be made to the MPT before you can use this set. When you need the MPT trolley for maintenance or other activities, ...
See the other products
Buitendijk-Slaman B.V.
Capacity: 325 l
Working width: 15, 18, 20, 22 in
See the other products
msgregson
Capacity: 1,300, 1,900, 1,600 l
Working width: 21, 24 m
Carried by the tractor and may be with hydraulic folding boom. 1.along the tractor such as EAK 2. behind the tractor such as HD or HDV or folding by hand, such as the standard Z and standard types M
See the other products
Delvano
self-propelled sprayer
3-Rex
Capacity: 10,000 l
Working width: 24 m - 36 m
The 3-Rex is our largest self-propelled sprayer on the market. Its exceptional feature is its three driving axles for "crab travel" and stable slope driving. With a 12,000l tank, it provides maximum daily performance ...
See the other products
AGRIO MZS s.r.o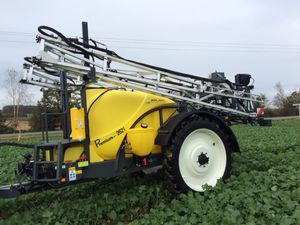 trailed sprayer
PREMIUM S
Capacity: 2,600, 3,000 l
Working width: 18 m - 27 m
See the other products
Arland
self-propelled sprayer
Galaxy 3500TM
See the other products
Bernardin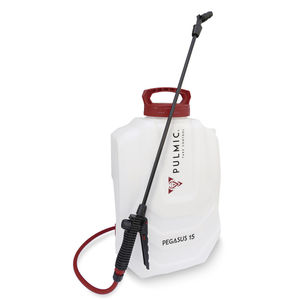 garden sprayer
PULMIC PEGASUS 15
Capacity: 15.8 l
Electric hydraulic sprayer for application of agrochemicals Characteristics: – Lithium battery which will last for up to four hours – High-performance membrane pump – Three speeds of application of between one and three ...
See the other products
Pulmic & Kamikaze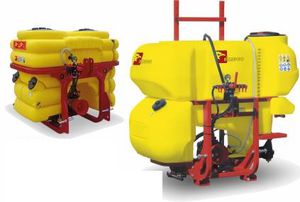 mounted sprayer
MERLO series
Capacity: 100 l - 1,600 l
Working width: 6 m - 18 m
CURRENT TECHNICAL FEATURES: PAINTED STEEL FRAME ● POLYETHYLENE MAIN TANK ● SYSTEM WASHING KIT AND HANDWASHING KIT POLYETHYLENE TANKS (200/1600) ● CLOTHES HOLDER (900/1600) ● LOW PRESSURE PUMP ● "ECM"MANUAL 4 WAY CONTROL UNIT ● SUCTION ...
See the other products
Rimeco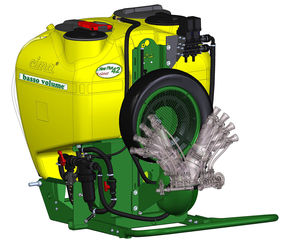 mounted sprayer
New Plus 42
Capacity: 300, 400 l
Working width: 96, 112 cm
The 3-point mounted low volume sprayer model New Plus 42 , with pneumatic atomization based on the "Venturi Tube" principle, performs chemical treatments with a low volume of water. Heavy and compact, precise in the ...
See the other products
CIMA
Capacity: 800, 600, 1,000, 1,200, 400 l
Working width: 12 m
Standard accessories Galvanized or painted Low pressure diaphragm pump Polyethilene tanks Hand wash tank Clean water tank with rinse circuit Suction filter Manual water distributor DPC 5 outlets Ladder to tank lid Optional accessories Manual ...
See the other products
I.M.M. di Moccia Srl