The Online Agricultural Exhibition

We have been in the center pivot and linear irrigation industry for nearly 60 years. Through the years, we have become not only the leader in precision irrigation, but also the most trusted name in irrigation. Now, Valley® Water Management ...

Watertronics Vertical Turbine Pumping Systems are engineered and built specifically for each customer and can meet virtually any flow and pressure requirements.
See the other products
Lindsay Corporation

slurry pump
Ex,Duplex series
Superior quality due to sophisticated technology. For 50 years BSA has been producing eccentric screw pumps for heavy-duty applications in agriculture and industry. More than 40.000 pumps have been produced and delivered so far. Due to ...
See the other products
BSA GmbH

Flow: 2,000 l/min
Submersible pump is a very useful attachment for situations where larger amounts of water or other fluids need to be drained from trenches, pits, wells etc. Pumping capacity is as high as 2000 l/min and fluid can be taken up from max. ...

-Easy, reliable and self-sufficient way of providing water to livestock when watercourses are fenced of -The solar kit can be used easily with all standard water troughs (e.g. part.no. 54008-1) -Battery compartment out of weather proof ...

• Smoothly running pasture pump, operation can quickly be learned by the animals • The animals pump their own water from an existing well or surface water and are this way always provided with fresh water • Bowl and operating lever made ...
See the other products
SUEVIA HAIGES GmbH

food additif dosing pump
PAV 2000
Pressure: 250 mbar
Thanks to a new design, this self driven electric vacuum pump will give you an incomparable comfort in your field experimentation when you work on soil solution sampling. The PAV 2000 vacuum pump is very light and has a very high electrical ...
See the other products
Sdec France

Power: 6 kW
Self-priming water pump for cleaning tanks assembled on hot galvanized trolley with wheels and shaft. Equipped with electric motor 7,5 hp; stainless steel venturi-pipe for dirty waters, brush in stainless steel large 50 cm with wheels, ...

Power: 75 ch - 140 ch
Slurry preparation prior to spreading is vital to optimise the consistency of the slurry mix, ensure easy application through the Tanker and enhance nutrient availability when applied over the land. Abbey believe this is a crucial part ...

Flow: 0 us gal/min - 147 us gal/min
Pressure: 0 psi - 50 psi
The BCS Water Transfer Pump attachment delivers more value to your BCS tractor! This self-propelled pump can be used for several applications on your property. With a maximum of 50 PSI and 147 GPM, the pump is fully capable of handling ...
See the other products
BCS America

See the other products
oleomac

ATASA is the exclusive distributor in Spain of COMET agricultural pressure pumps range. Actually, this is a privilege we own since 1988, the year we opened our factory in Murcia. COMET DIAPHRAGM PUMPS Low pressure pumps Medium pressure ...
See the other products
Atasa

Flush Pump • The decisive advantage is the performance, required for the system flushing. • Robust transmission with two pairs of bearings immersed into the oil bath and protected by a set of sealing glands. • Thanks ...
See the other products
Variant Agro Build LLC

Flow: 9 l/s - 49 l/s
Pump Size : 2.5" x 2.5" & 3" x 2.5" Discharge : 9 to 49 Lps. Head Range : 21 to 29 Mtrs. High Head : 3000 to 10000 Feet
See the other products
CAPTAIN TRACTORS PVT. Ltd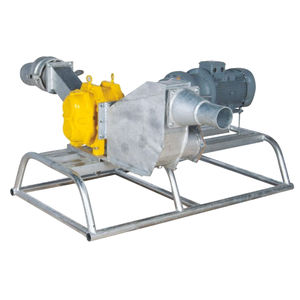 Flow: 70 m³/h - 140 m³/h
Pressure: 3, 5 bar
It is a portable type manure pump which can be driven by a tractor or electrical motor equipped with a special rubber rotor. It can pump high dry matter containing manure and liquids up to 5 bars.

Flow: 390 m³/h
Pressure: 330 bar - 350 bar
With the Herder water pump you can rapidly drain a ditch for horticultural purposes or reasons of urgency. The water pump can be deployed quickly and flexibly from a distance. It consists of a centrifugal pump with a Herder quick-fit ...

irrigation pump
TEC BP Series
Flow: 4 l/min - 25 l/min
Pressure: 70 bar

humidity pump
Ova-Easy/TLC
Specifically designed to work seamlessly with the Ova-Easy ADVANCE cabinet egg incubators and the new TLC-40 and 50 ADVANCE parrot brooders this humidity pump includes a peristaltic pump and an external water reservoir which eliminates ...

pesticide dosing pump
BP L S
Semi-hydraulic spraying pumps at low, medium and high pressure, anodized in all parts in contact with the liquid. The models BP 60 - 100 - 120 - 150 are ideal for weed killing spraying units equipped with mechanical, hydraulic or ...

Installations are equipped with tested pumps with high performance and operational reliability. Centrifugal pumps in stainless steel and supplied with 4.0 or 5.5 kW motors. SKIOLD is very focused on energy consumption and maintenance costs.

slurry pump
MJ95, AG Series
Flow: 9,240, 18,100, 22,700 l/min
There are two types of agitator pumps in the MAJOR range. The Major range of Super and Mega Agitators are efficient slurry pumps designed with the larger farmer and contractor in mind. They create enormous pressure to give phenomenal ...

The Buschhoff HYDROPOWER is the best pump for your liquid feeding! Buschhoff double piston pumps are predominantly used for large conveying distances and/or for feed with a high proportion of dry materials. For special dosing ...

See the other products
Tulsan

Flow: 31 l/min
Pressure: 40 bar
See the other products
SERHAS TARIM ALETLERI IML.PAZ.SAN.TIC.LTD.STI

pesticide dosing pump
AR 252
Flow: 25 l/min
Pressure: 25 bar
Mobile gas powered pump Gas powered pump with handle 2-piston pump AR 252 Incl. suction and return hose assy. Honda 4-cycle gas engine Operating pressure up to 25 bar Max. spraying distance 8 – 10 m Discharge approx. 25 l/min. 1 ...
See the other products
Birchmeier Sprühtechnik AG