The Online Agricultural Exhibition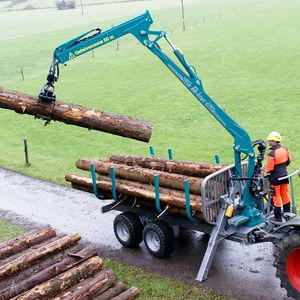 ... different. Another important criterion when buying a forwarding trailer nowadays is the safety equipment. Pfanzelt forwarding trailers offers all safety features required by KWF, FPA and the BG. The hydraulic ...
See the other products
Pfanzelt Maschinenbau GmbH
Efficient and reliable side tipping peat trailers for both milled and sod pat production. Eight large diameter wheels quarantee smooth and sure tranportation for peat from field to stockpile.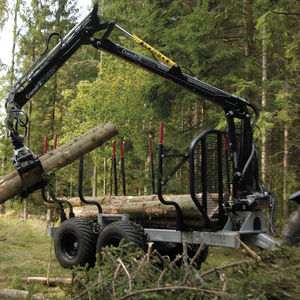 The demand for a really steady trailer, a forwarder trailer, was met by Hypro in 2003. At that time, demands and requirements came from many of our export markets, but also from customers in Sweden who ...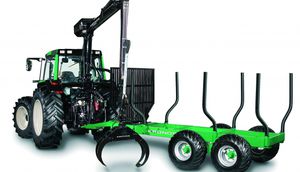 2-axle trailer
100H,100 4WD
... possible to keep the trailer frame structure low and the trailer's centre of gravity low also when carrying a load. The sturdy structure of the trailers is able to accommodate even the ...
See the other products
Wikar Oy AB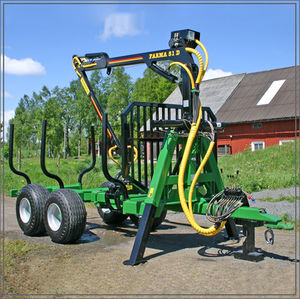 Farma has a large range of forest trailers with cranes.
See the other products
Mecanil Oy AB
... capacity.. Equipped with 4 wheel drive 933, providing a pulling force of 36.1 kN. and a top towing speed of 40 Km / h. The trailer has an electro-hydraulic hill descent control system and steering bar with double cylinder ...
See the other products
Industrias Guerra S.A.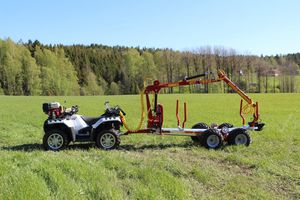 T1900ex is a powerful ATV trailer with a strong drive. The trailer is V-shaped for maximum clearance under the crane. It is 40 cm clearance under the crane, and end of the trailer is ...
See the other products
Kranman AB
This forest trailer was special designed for Quads/ATVs. It is compatible with the BMF 325 forestcrane. The solid and robust workmanship makes this set easy to work with.
See the other products
BMF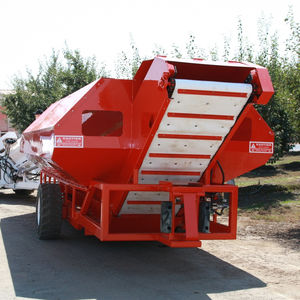 The Weldcraft conveyor cart offers large capacity reservoir to keep your harvester running longer and faster Vehicle  Highest capacity on the market  Tapered front corners  Auto start push bar with cam actuated ...
2-axle trailer
SMART CR46-S230C-FT10
Carefully designed details make the combination a perfect companion for energywood cutting -Cranes readily installed with ½" hydraulic hosing (o 16mm piping) as well as a suitable rotator allowing sufficient oil flow to enhance the felling ...
See the other products
FARMI FOREST Corporation
flatbed trailer
1014SST, 1016SST, 1018SST, 1020SST
The Pequea SST series skidsteer trailers are the choice trailer for the equipment professional. We made the frame extra heavy on all of our skidsteer trailers so an axle upgrade to 12,000 ...
See the other products
Pequea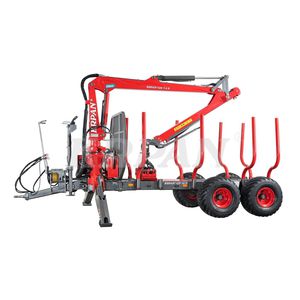 LOADING LENGTH 3.700/4.300 mm WEIGHT 1355 kg Central Beams2/180x100x6 mm Loading Length3.700/4.300 mm Total Length/Width5.980/2.215 mm
See the other products
PISEK VITLI KRPAN d.o.o.
John Deere power unit & controls which are warranted & serviced at any John Deere dealership Turbo III Engine intake air pre-cleaner which removes 85% of dirty air before entering air filter Front wheel drive allows for tight turning ...
This trailer was made for the ease of placing your extenday material in the orchard. The hydraulic motor spool valve with speed control, simplifies the unrolling process for the extenday material. The trailer ...
See the other products
AutomatedAg
chaser bin
X-Flow 15 and 19
The X-Flow 15 and 19 models are designed to accept the total capacity of the hopper on the largest combine harvesters that can then be immediately transferred. They are easy to use, have limited weight and are cheap to operate, which ...
See the other products
Pérard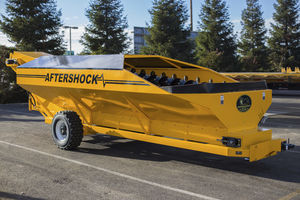 single-axle trailer
CC350,CC525
... your product in bulk, the most efficient way to collect it is into one of OMC's Aftershock carts. The CC-350 is a conveyor cart featuring 350 cubic feet of capacity, a dual chain delivery system with 42 inch conveyor ...
A complete line of robust, heavy duty dump trailers for off or on road use. Reliable and built to last, many models tilt on any of three sides by simply changing corner pivots. These trailers are precisely ...
See the other products
Pronovost
single-axle trailer
AC-013
The Regalo Auger Reservoir Cart is a simple, lightweight cart that utilizes dual leveling augers. Auger flights are adjustable to customize cart loading. The angled bin gently and efficiently ...
DOTAZIONI DI SERIE Frame profiles UPN on rigid axle Floor with smooth finish tilting hydraulic hose with quick coupling and limit valve Slave-foot mechanical upside tailgate opening front winches Light and documents system for registration ...
See the other products
FE.BA. Snc di Feliziani Serafino & C.
Because it is designed and manufactured in Ireland, the Grass Tech Grazer is designed specifically to cope with the high fresh weight of grass typically found in the UK and Ireland. Our relationship with our customers is two-way. By working ...
... enclosures and a fixed or automatic roof top opening. The Versa Box is available from 16 feet to 40 feet long in truck and trailer mount styles.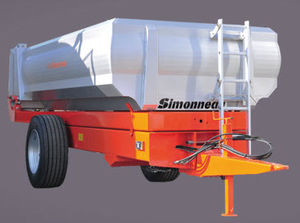 dump trailer
BB,BBE series
See the other products
Chalvignac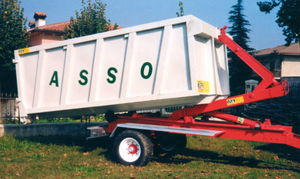 hook lift trailer
RCA Series
See the other products
MP International Srl
See the other products
Sayginlar Agriculture Machinery Ltd.
Sizes 20 to 40 ft. box Capacity: 35 to 75 cu. Yd. Material: 1/4" floors & 3/16" sides Dual apron drive Hydraulic tailgate Steering & brakes