The Online Agricultural Exhibition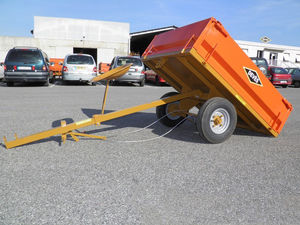 ... save unnecessary handling Pipes? Pallets? Bulky items? Remove the Rails to use the trailer tray. Small or large, adjust your seat for more comfort and safety Our trailers can be mounted on all types ...
See the other products
Devès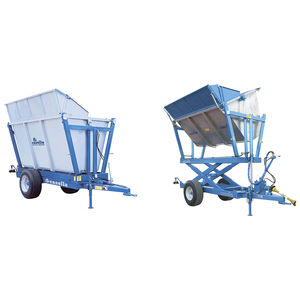 Tomato dump wagons with a 6 ton capacity. 2-way box dump with adjustable height ranging from 2.4 mt to 3.6 mt (CPL 60 model) or rear box dump (CPP 60 model). Mechanically-operated hydraulic brake.
dump trailer
RB MC Series
- Monobloc body with flat floor width 2.20m - Automatic or hydraulic rear door with grain chute optional - Single or 2 part rear door - Spring Drawbar - Swedish steel HLE Domex 4mm floor and sides 3mm - 1.10m sides with grain or ...
See the other products
BROCHARD CONSTRUCTEUR
... steel. All trailers except 125/150 are equipped with suspended drawbar and bogie, which ensures a quiet and steady drive, and thereby reduces the stress on trailer and tractor. All trailers ...
See the other products
THYREGOD A/S
MINICARGO MCM and MINICARGO MCL are two trailers which can be motor-driven, and their special design allows the trailers to be coupled to every type of rotovators and reversible mini-mowers, by substituting ...
See the other products
Caeb International Srl
dump trailer
901,902,949,958
DOG-LEG DISCHARGE One of the hardest drops your product will take is from the discharge of a truck bed to the stinger or hopper bowl of your even flow tub or collector. The dog-leg discharge reduces the distance, and therefore the impact, ...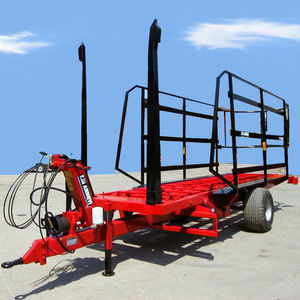 ACCESSORIES On demand: -rear door with hydraulic opening -remote controls -further option to agree
See the other products
Annovi F.lli di Annovi Marino srl
Container dimensions: - Lenght: 9,2 mt - Sides height: 1,8 mt ÷ (with extension-sides 2,3 mt ÷ 2,65 mt) - Hydraulic tailgate with rubber elements (airtight closure): standard ÷ increased with capacity - Load capacity ...
See the other products
BOSSINI s.r.l.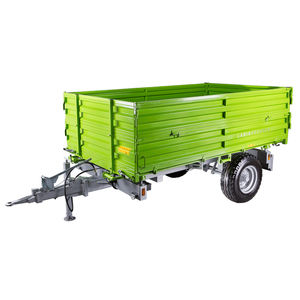 ... functionality. Trailer coupling can be constructed as a fixed or swivel allowing the adjustment of the height in four positions. Trailer PV- 4000 is supplied with tires 10.0/75-15,3" and hydraulic brakes ...
See the other products
Labinprogres TPS d.o.o.
... locked, so that the wagon runs after the baler as a standard 2-wheels trailer. We offer two types of QB3 bale wagon: 1) QB3 for 80x80cm mini big bales 2) QB3 for 120x120cm big bales. Equipment requirements ...
See the other products
Fasterholt Maskinfabrik A/S
Self-Unloading 14 Tt Hopper- 18,000 Lt . (NCM 87.16.20.00) This self-unloading hopper trailer is completely riveted and it includes rims for 23.1-30 tyres. 400 m down pipes Visualization window of the hopper interior ...
See the other products
FABIMAG S.R.L.
TECHNICAL CHARACTERISTICS - Reinforced section (grooved sheet, 3.5 mm). - Parking brake. - Mechanical support leg. - Track axle 1500. - Width between struts: 0.90 m. - Total width: 1.80 m.
chaser bin
Haul Master series
The HaulMaster Grain Cart is built by a farmer for a farmer. We understand what features not only maximize your time on the field but also keeps you going in those tough environments. High apacity to keep your combines going and heavy ...
... capacity and is fitted with 6 wheels. Discharge rate is 9,000 kg/hour. Besides their all-wheel steering capability, Multitrack carts offer several advantages over conventional grain carts: faster travel speeds can be ...
See the other products
Richiger Maquinarias S.A.
... is one of the leading tipping trailer manufacturers in Europe. Many useful detailed solutions such as e.g. the central tilting bearing locking mechanism, are the reasons for the big success of the Strautmann tipping trailers ...
See the other products
B. Strautmann & Söhne GmbH u. Co. KG
See the other products
Ludwig Bergmann GmbH Maschinenfabrik
Specification: Permitted total weight: 3,5 t Dimensions inside: 2540x1400x400 mm Standard tyres: 10.0/75-15.3/12PR¹ Dead weight about.: 750 kg Total length: 4.250 mm Total width: 1.600 mm Basic side board: 400 mm Platform height ...
See the other products
Oehler Maschinen Fahrzeugbau GmbH
Midi sand wagons Our Compact Midi sand tipping wagons have load capacities of 5 to 12 tons. The sand tipping wagons with load capacities of 5, 6 and 8 tons can be fitted with single ...
See the other products
BV Beco
... point-of-pull-adjustement Different tyre-sizes Safe and easy connection of the trailer because of the hydraulically adjustable drawbar 40 km/h driving speed 3-axle-trailer with front-cylinder and ...
drop-side trailer
Q5e, Q6e, Q7e series
The Q Range trailer is a compact, convenient but robust trailer designed with both the agricultural and domestic user in mind. On road they can be pulled by the family car whilst off road they can be ...
See the other products
Ifor Williams Trailers Ltd.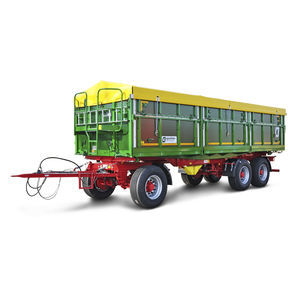 The agroliner three-axle three-sided tipper is designed for tractor and HGV use. This vehicle gives optimum transport performance, however, only with an HGV tractor unit which is also fitted with a tipper body. The maximum permitted total ...
See the other products
Peter Kröger GmbH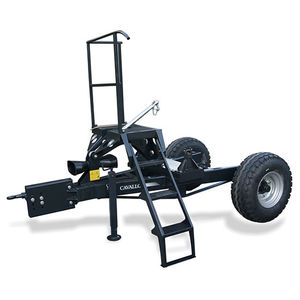 1.6 m Fixed Axle Track or Variable Axle Track from 1.55 to 2 metre Width Adjustable Hooks for Different Types of Fertiliser Spreaders – Standard Version with Adjustable Axle track from 1.45 and 2 metres – Version with Lifted-up ...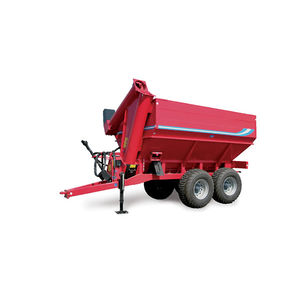 chaser bin
Boschi 15000 LT, 20500 LT, 24000 LT
Boschi Grain 15000 and Boschi Grain 20500 Machines for grain transporting and unloading. Thanks to auger wagon, it's possible to take full advantage of the high performance offered by baggers and bag unloaders without being limited by ...
flatbed trailer
Calf / Yard Trailer Transporter
- Multi purpose quad trailer - Light weight and sturdy transporter ideal for transporting calves, pigs, sheep, milk etc - 2'8" (W) x 4'1" (L) x 3' (H) caged transport area - Aluminium Checkered floor - Meshed sides ...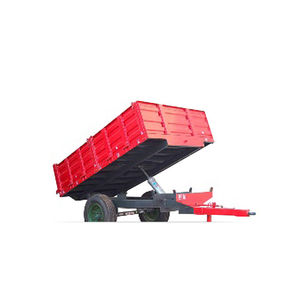 Mahindra Trolley primarily helps in transportation of agriculture produce. It is available in various sizes and can be attached with tractors of different HP type. FEATURES -Mahindra Applitrac's Spring loaded Cultivator is designed ...